A DE ARCHIPIÉLAGO – ES BALUARD MUSEUM I PEDRO G. ROMERO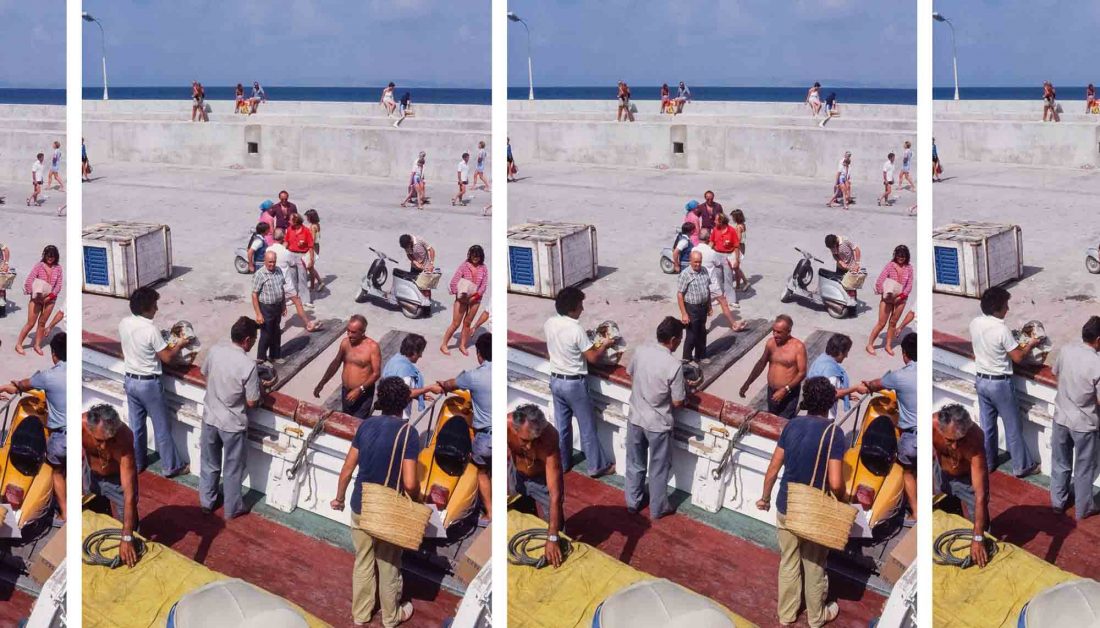 "A group of islands united by that which separates them." The classic definition of archipelago has proved useful in naming a series of works that are part of the project I call Scénario—both mise-en-scène and script, in the French acceptation of the word—which, basically, reconsiders many of the ways in which my work confronts the idea of archive.
Of course, the scenario is the Balearic archipelago, the islands. We should also bear in mind that "archi-" shares an etymological root with the Greek "arkhé" (ἀρχή, meaning 'start or origin', the beginning or first element of all things), from which the word "archive" also originates; as well as the fact that "-pelago" originally means "sea", i.e. the archipelago—the primary sea—that is now the Aegean Sea, an archipelago of archipelagos. By association, "pleiad", namely a diversity of chosen things, also originates from there. In other words, our use of "archipelago" could be translated as an archive of different archives united, precisely, by that which separates them.
Ever since Casa Planas invited me to visit its archive a few years ago—back in pandemic times—I've been exploring the islands with the idea of taking notes for what could become a film. This chaotic and mixed up approach, the organised disorder I came across in Casa Planas in 2020, has served me as a model to look through other archives in Mallorca, Menorca, Ibiza and Formentera. In all of them I saw, observed, read photo captions, and as things came to mind, I wrote them down. That's all there was to it. The leitmotif or McGuffin corresponds to the point of view, an always eccentric perspective of flamencos, gitanos, itinerant workers, migrants, nomads, exiles and other dangerous classes of people who have inhabited these islands. Nothing systematic, of course, but then again, the logic of the archive does its job.
As a map, or as a guide, I've used Viaje a Cotiledonia [Journey to Cotiledonia], by the master Cristóbal Serra, especially since I discovered that old "germanía" argot—for we cannot strictly speaking call it Gypsy or Romani language—had been one of his anecdotal inspirations. Then, of course, an artist like Helios Gómez reappears, whom I've studied a great deal and who in 1929 appeared as an extra in Berlin in the film Die Schmugglerbraut von Mallorca [The Smuggler's Bride of Mallorca], and then in 1936 recruited a group of gitanos in Barcelona to join the Bayo Column, whose aim was to liberate Ibiza and Mallorca so they would return to Republican legality. But there's also Robert Graves, Lola Flores or Walter Benjamin, and good old Simone Weil reading A Diary of My Times by Georges Bernanos, as well as Niño Chocolate, the hippies and other heroes and martyrs of the counterculture. Oh! And Vicenç Albertí i Vidal with his extraordinary translation of The Barber of Seville. Yes, besides archives, second-hand bookshops and flea markets have also been a source of information.
And that's what it's all about, making a film. That's why, apart from photographs, we have a series of films that make up part of what our film could be. We have already mentioned Die Schmugglerbraut von Mallorca, directed by German director Hans Behrendt, but we must add the terrible (in every sense of the word) Black Jack, jointly directed by Julien Duvivier and José Antonio Nieves Conde in 1950, as well as F for Fake (1973) by Orson Welles, with its images filmed by François Reichenbach in Ibiza. And finally, Amén Romaní (1968), by Pere Planells and Francesc Joan, a fabulous film documenting the early days of the Son Banya neighbourhood.
It's also worth highlighting our collaboration with two print shops, which goes beyond their technical services. On the one hand, Esment, with whom we slowed down the printing process to produce the originals; and on the other hand, the Última Hora newspaper printing press, with whom we accelerated the printing process so we can have, let's say, all the works printed so visitors can take the entire exhibition home, free of charge.
We could say that this is an intermittent, stuttering, discontinuous project. In effect, that's what an archipelago is like. And in addition to the exhibition as such, the project is completed with a screening of Pedro G. Romero's earliest films, along with a stage piece produced in collaboration with Mariàntonia Oliver, Perrate, Los Gemelos de Korea and a group of boys and girls from the El Hoyo neighbourhood.