NICOLAS GROSPIERRE. A SUBJECTIVE ATLAS OF MODERN ARCHITECTURE.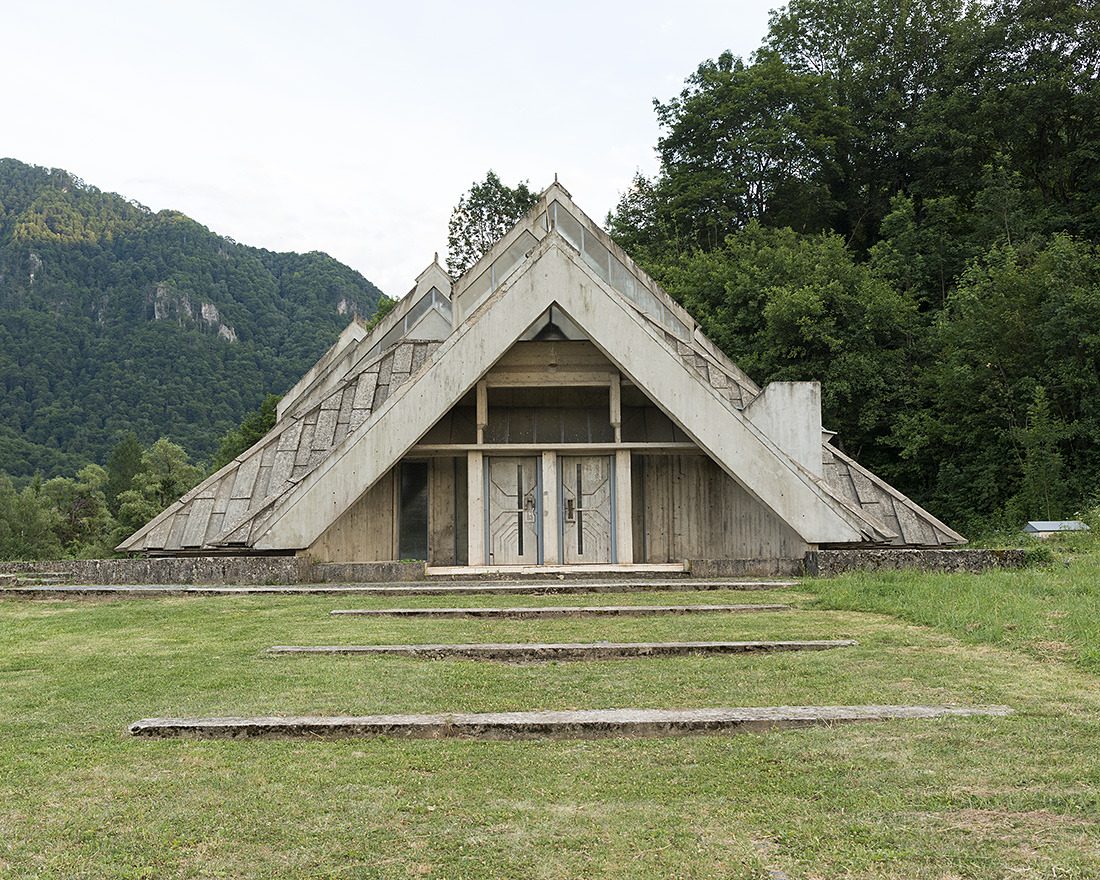 NICOLAS GROSPIERRE.
A SUBJECTIVE ATLAS OF MODERN ARCHITECTURE.
Instytut Fotografii Fort Instytut Fotografii Fort​. Warsaw.
01 March – 07 April 2019
Curator: Adam Mazur
Preview of the exhibition: 1 March 2019 (Friday), 7 p.m.
Guided tour with the artist and the curator: 23 March (Saturday), 1 p.m.
Admission fee during the opening and the guided tour: free
Ticket price from 01.03.2019 to 07.04.2019: PLN 7
Nicolas Grospierre is one of the most outstanding contemporary photographers, whose pictures from the two series Modern Forms and Modern Spaces will be displayed for the first time during the exhibition in the Fort Institute of Photography. Both series have already been published as albums and had been shown abroad, however they are not well known to the Polish audience.
Grospierre arranges the exhibition space is his characteristic way, i.e. making his pictures a part of audience-immersing installation. A Subjective Atlas of Modern Architecture is formed in a surprising order that emphasises the form of each building rather than their location, creator or year of construction.
Pictures shown at the exhibition were taken in Europe, Asia, both Americas, in the Middle East, and Australia. They comprise both iconic modernist buildings such as Gateway Arch in St. Louis, as well as marginal – even if equally interesting in their form – relicts such as now demolished balneological hospital in Druskininkai.
Vision pictured by Grospierre is thrilling and mad, and at the same time it goes beyond conventions of presenting modern architecture. His photos are linked through solid geometrical shape, technical solution of a particular construction problem or even a colour of detail used to finish a given building.
The idea of Grospierre's photography is better captured by comparison to classic works of Lucien Hervé, Ezra Stoller and Julius Shulman. As Elias Redstone, architecture critic and theoretician, notices that as far as classic 20th-century architecture photographers created a still popular vision of modernism as an international, minimalistic and yet sublime style, contemporary artists, including Grospierre, take a different – more critical – approach to modernism.
This exhibition presents a selection of the most interesting threads from the over 20-year-old archive of photography comprising thousands of images. Sequences of large-format pictures develop Grospierre's concept known to his Tumblr fans and by exposing detail and presenting facades along with interiors, create a composition that is something different and much more than just an image from a book or a picture of a building. In Grospierre's vision, form is not a derivative of the function, but rather precedes it.
Nicolas Grospierre (1975) is a photographer, of architecture mainly, and an artist working in the expanded field of photography. He studied Political Science and Sociology in Paris and London before turning to photography. His work as a photographer has been focused on the one hand on documentary projects, and on the other hand on more conceptual works. His documentary projects have often been exploring the collective memories of, and the hopes linked to modernist architecture, now that the utopias linked to them have faded away. On the other hand, his conceptual photographic works tend to emphasise mind games, while at the same time displaying attractive, sensual images or even installation.
Recent exhibitions include: T A T T A R R A T T A T, Signum Foundation, Venice, 2010; One Thousand Doors, No Exit, Graham Foundation, Chicago, 2011; Paper Planes, Arup, London, 2011; The City which does not exist, Bunkier Sztuki. Cracow, 2012; Axonometria, Alarcon Criado Galeria, Seville, 2012; The Oval Offices, State Gallery of Art, Sopot, 2013 ; A Glass Shard in the Eye, BWA Warszawa, 2014; Modern Forms, Architectural Association, London, 2016; Heliosophia, Alarcon Criado Gallery, Seville, 2017, Todo Palidece ante el Libro, Centro de Arte Alcobdendas, Madrid, 2017; The City which does not exist, Peresvetov Pereulok Gallery, Moscow, 2018, The Best Possible City, Architecture Galerie, Munchen, 2018.
He was awarded the Golden Lion at the 11th Architectural Biennale in Venice in 2008 (together with Kobas Laksa), for the Hotel Polonia exhibition at the Polish Pavilion.
His latest photographic album, Modern Spaces. A Subjective Atlas of 20th Century Interiors, was published by Prestel Publishing in 2018.
When we think about modern interiors, the first image that comes to mind is that of a simple and minimal design, perhaps even a modest one. Another connotation is more subtle and deals with the apparent timelessness of modern interiors – the fact that these spaces were envisaged as the ultimate design, that the 'modern way of life' could never be surpassed.
It appears, however, that both these images are illusions. Firstly, modern interiors can be excessively buoyant, baroque and eccentric. Secondly, and perhaps most importantly, it appears that modernist interiors are as prone as any other interior to age, and become outdated, in spite of their pretension otherwise. It is this hiatus – and the resulting ephemeral quality of modern interiors – which I find particularly touching. It speaks about Man's self-confidence or, to put it in gentler terms, in Man's ingenuity and perhaps naivety. But it is also what makes these interiors so fragile, and what ultimately prompted me to document them.
For me, modernism, and architectural modernism in particular, is the embodiment of one of the greatest ideas in the history of mankind – progress. Alas, the idea failed, but this failure has taken on a certain nobility characteristic of fallen ideals. This moves me considerably on the aesthetic and the ideological level. My works can be received as a form of a critique of modernism, but I must emphasise this is not a critique that comes as a result of reluctance. It is, rather, a contestation, an attempt to demonstrate what had gone wrong. For I can identify with ideas of progress, I believe in them and I long for them.
Nicolas Grospierre.
Partner of the exhibition: White & Case